Professional Concrete Paver Services in Raleigh, Wake County NC
Concrete Paver Services in Raleigh, Wake County NC
At Raleigh Concrete Contractors, we understand that installing concrete pavers can transform the look and feel of your property. Our concrete pavers service offers a wide range of benefits, including enhancing the aesthetic appeal of your outdoor space and increasing the value of your property. Our experienced team of professionals is dedicated to ensuring that our customers receive the highest quality concrete paver installation service.
We have vast experience installing concrete pavers and use the latest tools and techniques to ensure that the pavers are installed to your specific needs and specifications. Our team of experts can provide concrete pavers installation services for domestic and commercial customers, regardless of the job size. We can handle any concrete pavers installation project, from small residential driveways to large commercial parking lots.
Our team of concrete paver experts is highly skilled and has the knowledge to guide you through the entire installation process. In addition, we provide consultation services to help you select the right type of pavers that match your style and budget. As a result, we ensure that the installation process runs smoothly, from the base's preparation to the final installation stages, leaving you with a beautiful and durable concrete paver surface that will last for years.
If you're looking for high-quality concrete pavers installation services in Raleigh and Wake County, look no further than Raleigh Concrete Contractors. We are committed to providing the best possible customer experience and offer competitive prices. So why wait? Contact us today by phone or fill out our online inquiry form, and our team will be happy to assist you with all your concrete pavers installation needs.
The Different Types of Concrete Pavers
We offer various concrete pavers at Raleigh Concrete Contractors to suit your specific needs and preferences. From sleek and modern to rustic and traditional, we have a style to match any design aesthetic. Let's take a closer look at the different types of concrete pavers we offer and how they can enhance the look and functionality of your outdoor space.
Brick concrete pavers are an excellent option for adding durability, style, and value to any outdoor space. These pavers are made from molded concrete, which makes them strong enough to withstand heavy traffic and harsh weather conditions. Installing brick concrete pavers can offer several benefits, including low maintenance, slip-resistant surface, and long-lasting performance. Compared to other pavers, brick concrete pavers are more cost-effective and versatile in design options. They suit driveways, patios, walkways, and other outdoor living spaces. With a wide range of colors, sizes, and shapes, brick concrete pavers can transform any outdoor space into a beautiful and functional area.
Flagstone concrete pavers are popular with homeowners and commercial property owners. They are designed to mimic the natural look of flagstone while offering the durability and affordability of concrete. Installing flagstone concrete pavers has numerous benefits, including their slip-resistant surface, low maintenance requirements, and resistance to weather elements. Compared to other pavers, flagstone concrete pavers offer a more natural and rustic look that blends seamlessly with various landscaping designs. As a result, they are an excellent option for patios, pool decks, walkways, and driveways. With the flexibility and durability of flagstone concrete pavers, they make an excellent investment for any property owner.
Cobblestone concrete pavers are a popular option for creating a rustic and elegant look for outdoor living spaces. They are made of concrete and designed to mimic the appearance of natural cobblestone, providing a durable and long-lasting solution for your landscaping needs. One of the main benefits of installing cobblestone concrete pavers is their versatility – they can be used for a wide range of projects, from driveways and patios to walkways and garden paths. In addition, their durability and slip-resistant surface make them an excellent choice for high-traffic areas. Opting for cobblestone concrete pavers can add both aesthetic appeal and functional value to your property.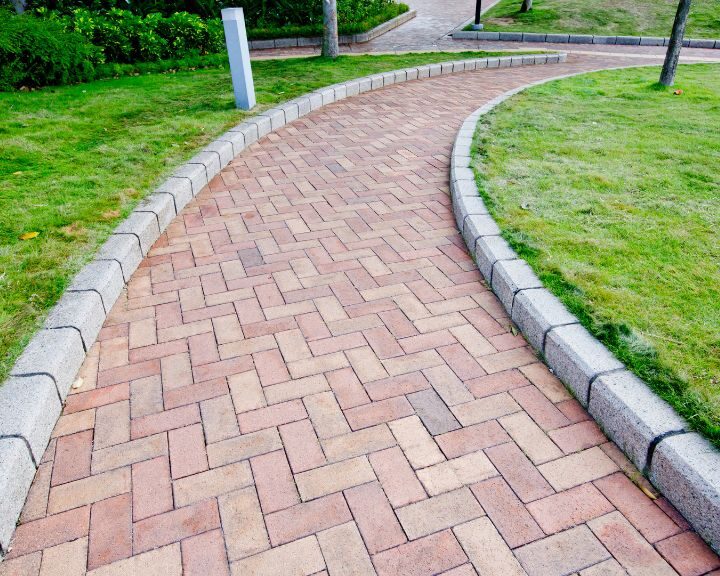 What are the benefits of concrete pavers?
Concrete pavers are an excellent choice if you're considering installing a new driveway on your property. Not only are they durable and long-lasting, but they also offer a range of benefits that make them a smart investment. Let's look at the advantages of using concrete pavers for your driveway.
Frequently Asked Questions
Professional Concrete Pavers Near Me
Are you looking for a professional concrete paver service near you? Look no further than Raleigh Concrete Contractors! Our team of experienced and skilled professionals specializes in providing top-quality concrete paving services for both residential and commercial properties.
We understand that each project is unique, so we work closely with our clients to ensure that we meet their specific needs and requirements. Our concrete paver services include patio and walkway paving, driveway and pool deck installations, and more. Our team uses only the highest quality materials and equipment to ensure each project is completed to the highest standard.
At Raleigh Concrete Contractors, we take pride in serving the Raleigh area and its surrounding communities. Our service areas include:
Apex

Cary

Clayton

Durham

Fuquay-Varina

Garner

Holly Springs

Knightdale

Morrisville

Raleigh

Siler City

Wake Forest
If you are looking for a professional concrete paver service near you, don't hesitate to contact us today. You can either give us a call or fill out our online inquiry form to schedule your free consultation. Our team is ready to help you transform your property with beautiful and durable concrete paving.